Real Estate Pivots in the Age of Covid-19
As we settle into this season where real estate pivots in the age of Covid-19, we've been anxiously waiting for the month of April to wrap up. We've wondered: "What will the numbers look like"? From our perspective, last month was quiet and there wasn't much going on as far as active clients or inquiries. We still took the opportunity to reach out and connect with many people we had helped serve in the past. But, we also shifted our perspective to how we could help our community; its people and businesses. It has always been on our heart to help people. So, we decided to do exactly that! We've been offering some giveaways and researching timely information to pass along to you and your family. Visit our Facebook or Instagram page, to "like" or "follow" us and don't miss our next giveaway!
As the month progressed we did notice a large decline in volume, however we kept a close eye on prices. In many neighborhoods values were holding steady. Many homes were still selling in multiple offers for full asking price or above. We also observed many properties being listed above market value. They are not receiving the activity, interest or results they expected. As a result, large price adjustments are being noted as well as listing suspensions (which means removing the property from the market).
Real Estate Pivots in the Age of Covid-19
Members of the Ottawa Real Estate Board sold 913 residential properties last month, compared with 2,025 in April 2019, an decrease of 55%. April's sales included 700 in the residential property class, down 56% from a year ago, and 213 in the condominium property class, a decrease of 51%. The five-year average for the month of April unit sales is 1,692.
"While the Ottawa real estate market statistics for April come as no surprise, they are a stark contrast to the previous month and the year-over-year figures for April 2019, "states Ottawa Real Estate Board President Deb Burgoyne. "I am proud to say, our Members have rapidly adapted to following the "State of Emergency" guidelines and are limiting work activity to assisting those who must sell and/or buy during this pivotal time – while keeping the health risk to all parties to a minimum."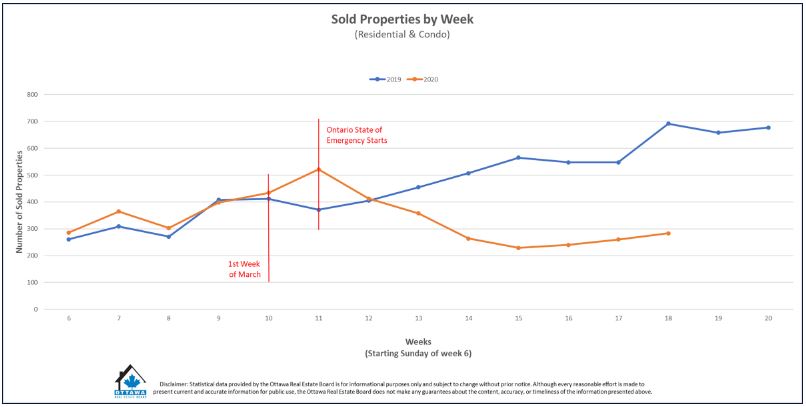 Average Prices this Month
April's average sale price for a condominium class property was $327,813, an increase of 6.3% from this time last year while the average sale price of a residential-class property was $521,694, an increase of 6.8% from a year ago. Year to date figures show a 15.1% and a 18.5% increase in average sale prices for residential and condominiums, respectively."
"While the number of unit sales has decreased substantially, residential prices are still holding their own and are up over last year's figures, with properties often selling above the asking price," Burgoyne reports. "There is still a holdover of pent up demand in our marketplace. We believe that when the market opens up again, although it won't be business as usual, sales will rebound and make up for the decline the spring market has experienced," she adds.
"Our Members have been adjusting and retooling the way real estate is conducted. They are finding new ways to market properties and provide options for viewings using technology such as live streaming open houses, posting virtual tours, and holding virtual showings, etc. These adaptations are key in mitigating risk for all parties and will certainly continue to be necessary as things normalize in the city and our working environment."
"If you are a potential home buyer or seller, and in a situation where it is essential that you buy or sell a property right now, there are means to do this in a safe and prudent manner. Do not hesitate to contact a REALTOR® to discuss, plan and protect you through this unique period," recommends Burgoyne.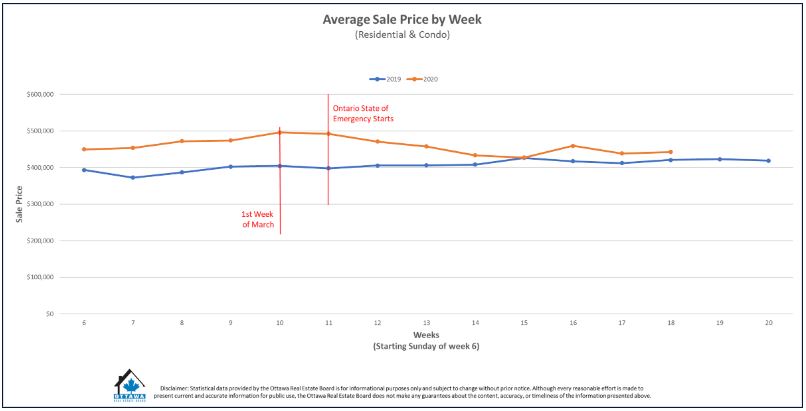 In Closing
Pricing a home is an art that many must master. It's a skill that is gained after having invested years working in the market. Understanding trends and local supply and demand. Now more than ever, this skill may top the list and be the most important to find in your Realtor. Your list price will make or break your results and your largest financial investment is at stake. It can mean leaving thousands of dollars on the table vs in your pocket. Is it essential that you make a move? If yes, find a Realtor you can trust and who understands the market. It will be a huge asset.
We are here to help. With over 18+ years of experience, we believe we have mastered the skill of pricing a home. No matter what the state of our current market, we still believe in the importance of a Personal Strategy Session. If you're thinking of moving, evaluating your needs & goals during this season is key. We are ready and willing to help with our virtual buying and selling services while practicing safe protocols. Our main goal is still to allow you to have a smooth and stress-free experience.
We're available for a call anytime at 613-809-4664 or you can email us directly at christiane@redpost.ca. Facetime or ZOOM is also our go to for our first "face to face" meeting!
Christiane & Your Friends at Redpost.ca